BUYAKANO: SAMBA PERCUSSION BEYOND TRADITION - WITH RAP, HORNS AND BASS
"This is somewhere between madness and samba. Without restraint they include all styles and genres of the world. They ride the wildest broomstick. They interweave whatever they like. It has to be rhythmical, then it's fine and carries away. Everything is possible!" This is how an ear-witness might describe the visit to a concert. The 13-head band includes no less than 8 nationalities, it has members from all over Europe and the USA. When Buyakano plays, sound- and boarder transcending anarchy rules, a true musical power plant.

And so, with Buyakano, it can happen that rap superimposes itself onto the percussive base of Samba, trombones appear out of the blue, a song by Outcast gets covered, even though no one would have suspected it. Occasionally Buyakano reminds one of a reawakened version of Mano Negra or BSM: a crazy dancing soup of Dubstep, Hiphop, Funk, Jungle, Soul, Mestizo and Tribalsounds.
DISCOGRAPHY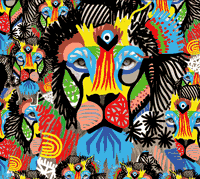 BOMBASTO (2014)
BeatBert Records
01 The King's Dubstep
02 Maquina de Ritmo
03 Kid's March
04 Spiegel
05 In's True Mental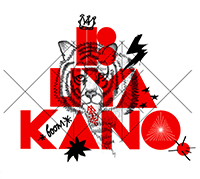 BOOM (2012)
Hey!Blau Records
01 Sascha Fabulous
02 Hey Ya!
03 Haus
04 From 12 til 8
BIOGRAPHY
The musicians met a few years ago in the cultural melting pot Rotterdam, originally started out as a samba percussion formation, escalated stylistically - became bigger, but also more familiar. They grew together and developed to a quite colorful unit, a whacked-out samba-hippie-ethno-corps. What began as a "student band" has developed into a fully grown music phenomenon that permanently creates cheerfulness for themselves and their fans.

The music of Buyakano is out of the same stuff that the wildest dreams are made of: Beyond morality and possibility, free movement and encounters are possible - with a very danceable outcome. Everything during the concert culminates in a grand finale. The band does not stay on stage, it literally gushes into the audience. There they are very down-to-earth, quite on the spot, and simply rough in the samba-mode.
LINE-UP
Roman Sielert (DE) – Fundamentos
Irene Novoa (ES) – Vocals / Centrador
Jenny Thiele (DE) – Vocals / Centrador
Amir Wahba (AT) – Repinique
Alberto Molina (ES) – Repinique / Centrador
Daniel Hahnfeld (DE) – Caixa
Javier Infestas (ES) – Caixa
Julius Oppermann (DE/FR/USA) – Timba / musical director
Andy Smart (USA) – Rap / Vocals
Efe Erdem (TR) – Trombone
Ioannis Marinos (GRC) – Trombone
Bart van Gorp (NL) – Bass-Trombone
Olmo Marin (ES) – Guitar
Fred Jacobsson (DE) – Bass
TOURDATES
22.11.2014 Rigolo Swiss // Aftershow Party, St. Gallen (CH)
03.08.2014 Bardentreffen // Festival, Nürnberg (DE)
19.07.2014 Wunderland // Festival, Bietigheim-Bissingen (DE)
29.05.2014 Grand Opening // KLP , Wendland (DE)
09.05.2014 Kringjazz Festival // De Kring, Roosendaal (NL)
09.05.2014 Live uit Lloyd // Radio Rijnmond, Rotterdam (NL)
08.05.2014 Bombasto EP release // Poortgebouw, Rotterdam (NL)
15.03.2014 Video Release // Poortgebouw, Rotterdam (NL)
13.03.2014 Fullmoon Party // Grounds, Rotterdam (NL)
30.09.2013 Slam!FM // Halloween Extravagant, Brielle (NL)
04.08.2013 KlangWelten Sommer // Burgfestspiele, Dreieich (DE)
27.07.2013 SommerMusikFest // Knüllkopf, Hessen (DE)
26.07.2013 WorldMusicFestival // Stadtpark, Loshausen (DE)

29.06.2013 Fusion Festival // Flugplatz, Lärz (DE)
22.06.2013 Muziek op de Rotte // Noordplein, Rotterdam (NL)
30.04.2013 Massive Blockparty // BIRD, Rotterdam (NL)
02.02.2013 Bremer Karneval // Schlachthof, Bremen (DE)
29.10.2012 FullMoon Babylon // Grounds, Rotterdam (NL)
16.09.2012 Jenny Thiele Release // BdK, Cologne (DE)
08.09.2012 Volkstheater // Spinozapark, Rotterdam (NL)
01.09.2012 Kaarst Total Festival // Kaarst (DE)
29.06.2012 Zeltival // Tollhaus, Karlsruhe (DE)
16.06.2012 Schouwburgplein Festival // Rotterdam (NL)
09.06.2012 Werelds Delshaven Festival // Rotterdam (NL)
09.06.2012 Volkstheater // Heer Vrankestraat, Rotterdam (NL)
27.05.2012 Dunya Festival // Euromastpark, Rotterdam (NL)
DISCOGRAPHY
Bombasto (2014, BeatBert Records)
Boom (2012, Hey!blau Records | H!B0005)
CONTACT
Julius Oppermann
Mail: boom@buyakano.com
Phone: +49 (0)157 74 662 772
Phone: +31 (0)6190 37 282