live @ Grand Opening KLP // Güstritz, Wendland (DE)
29th of May 2014
Buyakano will be play on the opening night of the 25th Kulturelle Landpartie!

Taking place from the 29th of May til the 9th of June, artists living in the area open their doors and ateliers to the public, creating a wonderful free athmosphere, with life, art and music all over this region. And on the opening evening of these festivities, we will perform in a circus tent full of them :-)

So, if you have never heard of the KLP, be sure to go and experience it!
To the rest of you: See you there!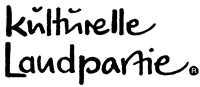 Grand Opening KLP // Güstritz, Wendland (DE)
May 29th
20:30