Buyakano on the air in national spanish radio
19th of March 2013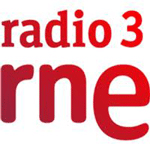 It is our pleasure to have been played during "Sonideros" on RNE3, the 3rd national spanish radio station! This is the audio of their program, we are featured with Sascha Fabulous starting at 42:20. In case you missed it (...) you can now find it here as well as on their website.
Sonideros: Kiko Helguera & Rodolfo Poveda - La distancia - 17/03/13
So who now explains to me why Buyakano is being played on national spanish radio, in a country where the band has never been before, opposed to sooo many shows in the Netherlands or Germany with no airtime to show for it? Not that we are complaining, quite the opposite, just wondering. ;-) Current european financial politics by the german government finally show an effect: According to this broadcast, there are no germans in the band... Enjoy!