live @ Massive BlockParty // Bird, Rotterdam (NL)
30th of April 2013
We are playing a double concert with the Afrobeat Funk Band Atanga Boom on Queensday, April 30th, in club BIRD in Rotterdam. Quite early in the day, let's release some mayhem!
Entrance is for free, so what are you waiting for?!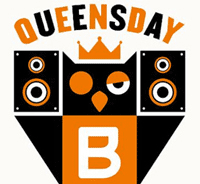 Check their website for more info and the complete line-up: www.bird-rotterdam.nl See ya there!
Massive BlockParty // Bird, Rotterdam (NL)
April 30th
16:00